Diamond Peak Ski Resort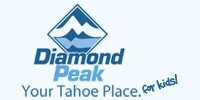 About The Resort
It's not as large as some of its neighbors; however on the weekends when North Lake Tahoe and the big resorts get swamped with visitors, Diamond Peak offers fewer crowds and more. The top of the resort, opened up to lift operations in 1987, offers one of Tahoe's most stunning views. On one side is the open desert and Washoe Valley and on the other is Lake Tahoe. The intimate setting here is what has drawn the locals and regulars year after year since this resort opened after the Olympic Games of 1960. A great place to learn and enjoy a family atmosphere, Diamond Peak also offers very reasonable lift ticket rates along with a 1 hour guarantee. If you don't like it here within your first hour (whether that be due to service or snow conditions, etc), then return your ticket for a voucher for a future date of your choice. That's a great deal, one definitely worth checking out if you are visiting North Lake Tahoe this winter.
Resort Daily Hours
Mon:9 AM – 4:30 PM
Tues: 9 AM – 4:30 PM
Wed: 9 AM – 4:30 PM
Thurs: 9 AM – 4:30 PM
Fri:9 AM – 4:30 PM
Sat: 9 AM – 4:30 PM
Sun: 9 AM – 4:30 PM
Night Hours: Not Available
Lift Operations
Total # Lifts: 6
Surface Lift: 0
Double Chair: 3
Triple Chair: 0
Quad Chair: 2
High Speed Quad Chair: 1
High Speed Six Chair: 0
Gondola/Tram: 0
Trail Information
Beginner Trails: 18  percent
Intermediate Trails: 46  percent
Advanced Trails: 36 percent
Expert Trails: 0 percent
Longest Trail: 2.5 miles

Terrain Information
Accessible Terrain: 655 acres
Elevation Info
Highest Elevation: 8450 ft
Total Vertical Drop: 1840 ft
Lowest Elevation: 6700 ft
Tree Skiing: Yes
Off-Piste Terrain: Not Available
Freestyle Terrain and Jib Parks
Terrain Parks: 2
Half-pipes: 0
Misc Activities
Tubing: Not Available
Helicopter Ski: Not Available
Snowmobiling: Not Available

Snow Conditions
Snow-making Capacity: 492 acres
Seasonal Snowfall: 300 inches
Services
There are two main lodges. The base lodge features ski rental and repair, food and beverage options, and the ski school. The second lodge is located mid-mountain and features a sun deck that overlooks Lake Tahoe and provides bathroom, food and beverage services and more.
Services available off the mountain are close by in Incline Village and neighboring North Lake Tahoe cities. Here you will find many options for lodging, eating, shopping and the necessary emergency and hospital services.
Lift Passes/Day
Adult: $49 +
Youth: $39 +
Child: $18 +
Private and Group Ski Schools
All ages and skill levels will find adequate options for ski and snowboard school at Diamond Peak. The combination packages are affordable. In addition, with the smaller crowds, your learning experience most likely will be more attuned to your situation than some of the larger resorts with more crowded slopes.
Car, Bus and Air Transportation
Via Air:
Closest airport is Reno International (RNO). The shuttles from the airport to Incline Village have a
transfer time of about 1 hr.
The airport in Truckee is also available for smaller flights and charter planes.
Via Car:
From Reno, I-395 South to 431 West all the way to Incline Village. Once in Incline Village, take a left on
Country Club Rd and a left on Ski Way. The resort is at the top.
From San Francisco, highway 80 to Truckee. Then highway 267 towards South Lake Tahoe and left on
28 East all the way to Incline Village. Once in Incline Village, go left on Country Club Drive, then left on
Ski Way and take it all the way to the top.
Via Bus:
You can hire a bus from San Francisco to Incline Village, which takes about 6 hours.
Shuttles from the Reno airport and hotels take about 1-1.5 hours to Incline Village.
Accommodation Information
Thousands of rooms are available in North Lake Tahoe. Incline Village vacation rentals, hotels and more are nearby, and other north lake tahoe cities have an extensive supply of rooms.
>Find Lake Tahoe Vacation Rentals
>Also: South Lake Tahoe Vacation Rentals and North Lake Tahoe Vacation Rentals
Calendar
Typical Season Dates: Between December and April
Things To Do in Summer
The resort is available for parties and wedding activities on the mountain, and hiking, rock climbing and other outdoor activities can be explored on your own.
Resort History
Started after the 1960 Winter Olympic Games at Squaw Valley, Diamond Peak was originally called "Ski Incline." Art Wood helped open this resort as a part of his larger master plan for Incline Village, a vision of his for an integrated destination resort. The plan was met with many naysayers, plenty of which were surprised when Ski Incline was able to open within 4 months with 3 chairlifts, a T-Bar and the first snowmaking system on the west coast. The new business was a success, and from then on continued to expand.
A significant upgrade came in 1987, when the accessible terrain was expanded to the top of Diamond Peak. The community wanted it, and they got it, with lift access to the 360 degree panorama view that defines a unique experience at this mountain. Ever since, Diamond Peak has continued to upgrade its lift technologies, lodges and ski school.
Other
Snowboarding Access: Allowed
Snowboard Leashes: Not Required
Common misspellings: Diamondpeak, Diamond-Peak, Diamon Peak,
Contact
Diamond Peak
1210 Ski Way
Incline Village, NV 89451
Phone: (775) 832-1177