West Lake Tahoe Beaches

Although the west shore of Lake Tahoe is known more for its mountains, we have listed here a few beaches for summer time relaxation.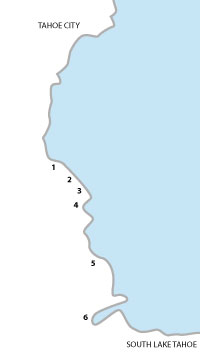 1. Kaspian Recreation
Located near campgrounds that are operated by the US Forest Service, this beach offers great views of the lake, a picnic area and more. A bike path is nearby as well. It is part of the larger Kaspian Recreation Area which offers full camping facilities and so forth nearby.
Amenities: Many facilities nearby at the campgrounds.
Directions: From Tahoe City take Hwy 89 4 miles South.
Parking Fee: No
2. Chamber's Landing
This flat and sandy beach is located near the popular Chambers Landing Restaurant, which has a dock bar and attracts lots of boat traffic. There is a portion of the beach open for dogs, and the swimming area is safe for swimming (children included).
Amenities: The dock bar has food, drinks and restrooms.
Directions: From Tahoe City take Highway 89 South 9 miles until you see the Chambers Landing Restaurant.
Parking Fee: Yes, or you can park on the street and walk down to the beach.
3. Sugar Pine Point
The beach here is very nice, although the walk from the parking lot is longer than most other beaches. The General Creek runs through the campground and into the area north of the pier, which is a great area for kids and is less rocky. The stream can also be fished during certain summer months and it has some of the area's clearest water. There is a nearby campground and historical points of interest (not walking distance).
Amenities: Restrooms, picnic grounds, BBQ grills and a pier.
Directions: From North Lake Tahoe take Hwy 89 South 9 miles past Tahoe City.
Parking Fee: Yes
4. Meeks Bay
The Meeks Bay Resort is a very convenient collection of beach amenities, with campsites within walking distance to the beach, a general store and snack bar, boat rentals and good hiking close by. It is a very popular place for families to stay during the summer, as these amenities make for an easy and family-friendly experience. This is more than just a place to visit for the beach, as the bookings for staying here go quick in the summer. Lodging includes motels, cabins, camping and more. Also see luxury lake tahoe vacation rentals for homes and condos nearby.
Amenities: See above for details. There is also a marina.
Directions: From North Lake Tahoe take Hwy 89 about 11 miles south to Meeks Bay. From South Lake Tahoe take Hwy 89 North 16 miles.
Parking Fee: Depends on where you are parking.
Also check out these links for Luxury South Lake Tahoe Vacation Rentals and Luxury North Lake Tahoe Vacation Rentals
5. D.L. Bliss State Park (Lester Beach)
Down the stairs from the state park is Lester Beach, a very nice beach with fine sand and expansive views of the lake. Come here if you are camping nearby at the popular D.L. Bliss campgrounds. There is also a hike to nearby Rubicon Point that is easy and offers great perspectives of Lake Tahoe. The combination of campground and beach here is a great choice for a summer trip (there are hot showers, flushing toilets, etc)
Amenities: BBQ grills, trails, campgrounds, restrooms, picnic areas.
Directions: From Tahoe City take 89 S for 17 miles. From the south end of the lake take 89 N 13 miles.
Parking Fee: There is a state park admission fee
6. Emerald Bay
Visiting this beach is more of a combination activity. The beach can only be accessed by hiking in or boating in. The Vikingsholm trail brings you down to the beach from the road, or you can charter a boat tour to bring you in from the lake. Once at the beach, it has a nice fine grain and there are some cliffs nearby that are popular spots for jumping off into the bay. Unique to this spot is the Vikingsholm Castle right on the beach, which is was a summer home for Josephine Knight in the early 1900′s. There also a few other hiking trails from the beach and many more accessible from the top of the trail.
Amenities: Restrooms, dock, picnic areas.
Directions: From South Lake Tahoe take Hwy 89 North for 9 miles. From Tahoe City take 89 South for 17 miles.
Parking Fee: Yes, and it is very hard to get a spot unless you get there early. There are a few free spots on the side of the road.