Boating Activities in Lake Tahoe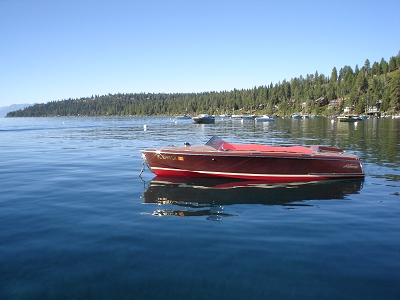 When visiting Lake Tahoe, its dominating presence and expansive character is a rich experience in itself. It doesn't end there however, as many local businesses offer various ways of interacting with the lake through boating. The only challenge here is choosing from the myriad of options, which range from slow and steady to rough and hands on. There are even options for dancing on the lake. Read on for a description of what you can expect for summer boating activities around the lake.
Cruises
Typically running large boats that fit hundreds of people and provide and narrated tour of their destinations, cruises have been running for years on the lake. The most popular destination while on these cruises is Emerald Bay, which has been a national natural landmark since 1968. It is one of the most photographed places anywhere and it is big enough to fit the multiple large cruise boats that visit daily.
The largest cruise boats originate in Zephyr Cove, NV and have a total travel time of around two hours as they make a round trip from the east to the west side of lake and back. If you are staying in South Lake Tahoe, shuttles are available from the hotels to and from Zephyr Cove Marina. The tours from Zephyr Cove run multiple times per day, and some evening tours even feature a dance floor, drinks and a sunset view.
Cruises to Emerald Bay are also available from the North Shore, although the bulk of the activity is from Zephyr Cove.
Yacht Charters
For a more intimate cruise, charter boats are available for hire. Albeit more expensive, charter tours offer your choice of destination and a much smaller crowd on the boat. If you are okay with the preset cruise route, tours are available that offer themes such as a dinner and sunset tour. Many charter tours also go through Emerald Bay right along with the big cruise boats. These tours are a great way to avoid the crowds and have a more personalized experience without having to drive the boat yourself.
Rent a Boat
If you do want to drive the boat yourself, multiple marinas are located around the lake and many options are available for renting small boats. If you don't care for the narrative tours, or maybe just want to go fishing for a day then this could be your best bet. Rental companies will provide you with all the information you need to know about local rules and regulations, provide safety equipment, and set you up with a boat at an hourly rate. Options for boat types usually include powerboats, pontoon boats, sailboats, jet skis, paddle boats and more.
Rent a Kayak or Canoe
For those who want to get a little wet and have a more hands on experience with the water, kayaking and canoeing in Lake Tahoe can be a fantastic experience. It's easy to find these kinds of boats for rent, as many companies set up shop right on the beach. For those looking to save a few bucks, you can rent kayaks at some of the local stores, although you will have to transport the kayak or canoe to and from the beach yourself. Be aware that some rental companies have restrictions on where you can take the boat. So, if you have a specific area of interest to you like to explore, then call ahead to the rental company ask them if it is allowed. Otherwise, you might be disappointed at the lack of options you have able to explore.
During the summertime, there are many options to explore this vast lake of 12 miles wide and 22 miles long. With a little research and some foresight, you should be able to find the perfect boating experience.